NCC REPORT 2017-18
Our college has two NCC wings - 1TN (Air Wing) and 1Tn ( Naval Wing). The Air wing comprises of 14 cadets and the naval wing comprises of 13 cadets. The air wing is under the charge of Dr. K. Kanthimathi and the naval wing is under the charge of Miss. P.Divya Prabha.
The year 2017-18 was an eventful year for the NCC Cadets of SDNB Vaishnav college. They created imprints in whichever arena they participated. An orientation programme was conducted in the beginning of the academic year for inducting new cadets.
Cadets participated in International Yoga Day hosted in Loyola college and Zion Matriculation School. P. Janani and J. Chitra of the naval wing participated in the Scuba Diving camp and IUC Camp. The air wing cadets participated in Combined Annual Training Camp (CATC) organized by VIT, Chennai and Flight cadet K.J Bhavatharani and Cpl K. Vishali attended the Pre-IGC camp held in Air Force Station.
| RANK | NAME OF THE CADET |
| --- | --- |
| C/SGT | M.AMIRTHALAKSHMI |
| C/SGT | G.ATCHYA |
| C/SGT | A.SAKAYA VIJAYA PRIYA ANSY |
| C/CPL | G.JAYASHREE |
| C/SGT | SOUMYA SINGH |
| F/C | K.VISHALI |
| F/C | K.GAYATHRI |
| F/C | K.J.BHAVATHARINI |
Corporal K.Vishali participated in Inter group completion (IGC) held in Pondicherry. Navy cadet P.Janani and J. Chitra attended Navy Launch Camp held in Pondicherry. Both of them participated in All India Nau Sainik Camp (AINSC) held in Karwar, Karnataka.
C/SGT M.AMIRTHALAKSHMI Attended Air Wing Launch Camp held at Tambaram Air Force Station. Flight cadet K.Vishali and naval cadet P. Janani attended the Training camp for the Republic Day celebrations at Coimbatore. Naval cadet P. Janani attended the Sailing Camp held at INS Chilka, Orissa. Cadet Senior under officer G. Atchya attended the most prestigious Youth Exchange Programme held at Maldives in December 2017.Petty Officer Cadet T.U Divya and Petty Officer Cadet M. ShreeVidhya of the Tamilnadu Naval Wing attended the National Integration Camp (NIC) held at Madhya Pradesh. Naval Cadet1 J. Chitra and Petty Officer Cadet V. Geethalakshmi attended the Annual Training Camp held at Ezhimala, Kerala. The air wing cadets, Cadet Warrant Officer M. Amirthalakshmi, cadet sergeant A. Sakaya Vijaya Priya Ansy and cadet sergeant Soumya Singh attended the National Integration Camp held at Ropar, Punjab.Petty officer cadet V. Geethalakshmi of the naval wing attended the CATC camp held at Jeppiar college.
Our cadets won the overall runners up trophy in Cado-woods organized by Madras Christian College.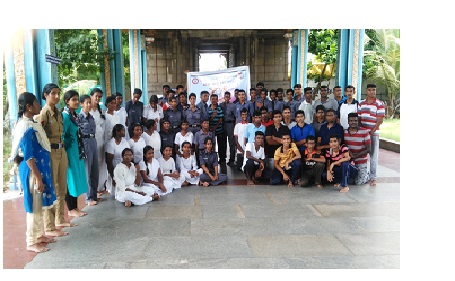 1. TEMPLE CLEANING AT MURUDEESHWAR TEMPLE, THIRUVANNAMALAI.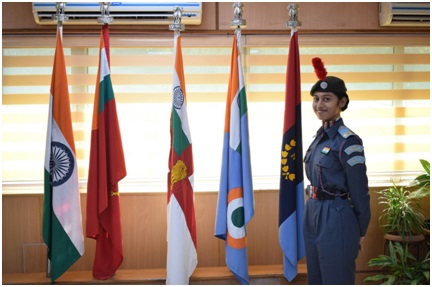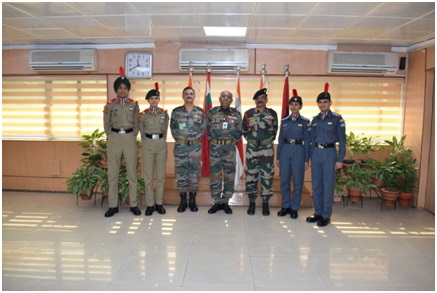 2. CADET G. ATCHYA AT THE YOUTH EXCHANGE PROGRAMME, MALDIVES.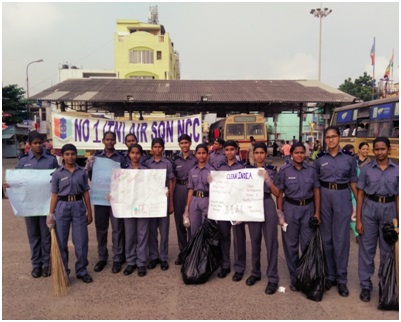 3. AIR WING CADETS AT SWACH BHARAT CAMPAIGN, VILLIVAKAM DEPOT.