NCC REPORT 2018-19
Our college has two NCC wings - 1TN (Air Wing) and 1Tn ( Naval Wing). The Air wing comprises of 14 cadets and the naval wing comprises of 12 cadets. The air wing is under the charge of Dr. K. Kanthimathi and the naval wing is under the charge of Miss. P.Divya Prabha. Airwing Secretary-SGT Vishali. K, Navy Secretary- CC J .Chitra
The year 2018-19 was an eventful year for the NCC Cadets of SDNB Vaishnav college. They created imprints in whichever arena they participated. An orientation programme was conducted in the beginning of the academic year for inducting new cadets.
Cadet of naval wing CC J.chitra participated in annual training camp(ATC) held at kerala ,ezhimala ,combined annual training camp (CATC). Cadets of airwing SGT vishali.K participated in firing camp and advanced leadership camp(ALC) held at agra and have participated in rdc-national integration camp(RDC-NIC) held at Trichy and k.gayathri participated in firing camp and rdc-combined annual training camp(RDC-CATC) held at VIT college .
| RANK | NAME OF THE CADET |
| --- | --- |
| CC | J.CHITRA |
| SGT | K.VISHALI |
| F/C | K.GAYATHRI |
| F/C | K.J.BHAVATHARINI |
Cadets of naval wing NC1 M.Amirtheshwari participated in republic day camp(RDC) held at Delhi, NC1 S.thanya participated in sailing camp held at INS Chilka, NC1 R.aathi ,NC1 S.janani, NC1 R.meera have participated in rdc-inter group competition(RDC-IGC) held at coimbatore
Cadets of airwing F/C apana keshari have participated in vayusainik camp(VSC) held at jodhpur,F/C s.chithra, F/C d.subashini, F/C s.deviga have participated in rdc-inter group competition(RDC-IGC) held at Coimbatore.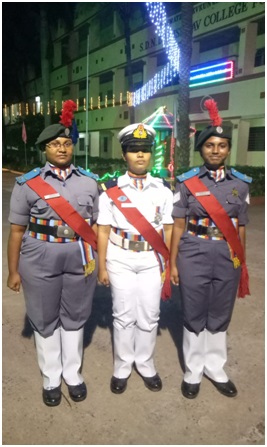 1. AT COLLEGE AUDITORIUM OPENING FUNCTION.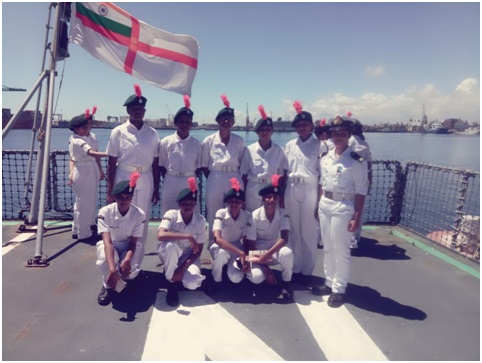 2. NAVAL CADETS VISITED SHIP VISIT ,INS SUMITHRA, NAVAL HARBOUR.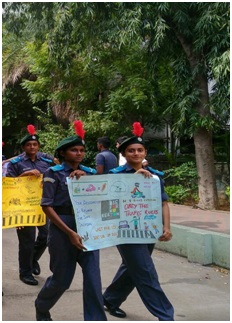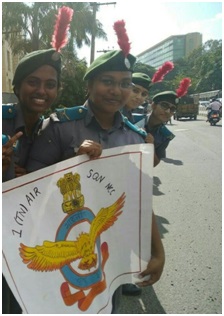 2.AIRWING CADETS PARTICIPATED IN TRAFFIC AWARNESS RALLY,VELACHERY.